Quebec has always been a preferred destination for the immigration of skilled workers. If you have got the right education, training, work experience and meet other eligibility, you can easily become a permanent resident of Canada and live and work under the Quebec Skilled Worker Program (QSWP).
An overview of QSWP
Looking to immigrate to Quebec and live there as a skilled worker? You cannot apply through immigration streams like Federal Skilled Worker or Canadian Experience Class. Instead, you need to apply through Quebec's own Skilled Worker Program.
Under Quebec Skilled Worker Program, you will be able to take advantage of all the benefits of a Canadian citizen like free healthcare and government initiatives. You can also relocate with your spouse and family and even use spousal credentials on your application. But you have to wait till you become a citizen to exercise your voting rights.
Note: if you are looking to utilize the QSWP, we recommend you to waste no time as Quebec has decided to decrease the number of immigrants under the program. In 2019, the province accepted 41% fewer skilled workers compared to 2018.
Why Should You Consider the QSWP?
Even though it might be hard to utilize the QSWP this time, the program has lots of benefits.
The program enables skilled workers to come and work in Quebec. You can also bring your family and apply for permanent residency once you get your CSQ. The program is easy to apply and the process is also hassle-free.
Also, the program has less strict eligibility criteria compared to the Federal Skilled Worker (FSW) program. You may also migrate to Quebec without a valid job offer.
QSWP Eligibility
Skilled workers who meet the eligibility are given a Quebec Selection Certificate (CSQ), which they can use to apply for permanent residency. You can apply if you are a:
Skilled Worker from any country
Temporary resident of Quebec
International student studying in Quebec
Legal, full-time worker in Quebec
You may also check your eligibility online: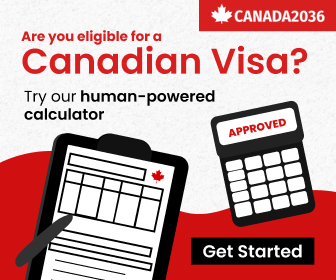 You will need to satisfy the minimum eligibility we discuss in the "Requirements" part of the article below. Then visit the Arrima portal to create an expression of interest with details like educational qualifications, work experience, age, and so on. After that, the authorities will evaluate your credentials and award you points.
In order to qualify for CSQ, you need to score 50 points as a single applicant. If you are applying with a spouse or common-law partner, you will need 59 points to qualify. Here is the distribution of points:
| | |
| --- | --- |
| Verticals | Maximum Points |
| Education | 14 (cut-off is 2 points) |
| Area Of Training | 12 |
| Validated Job Offer | 14 |
| Work Experience | 8 |
| Age | 16 |
| Language skills | 22 |
| Quebec connection | 8 |
| Spouse / Common-law partner | 17 |
| Accompanying children | 8 |
| Financial position | 1 |
The immigration officials will choose the applicants with top scores for the QSWP program.
Requirements for the Quebec Skilled Worker Program
Your eligibility for QSWP will be determined based on 9 factors. The authorities will consider these factors to determine if you will be able to flourish economically and culturally in Quebec.
The minimum requirements are as follows:
Educational Qualifications for the QSWP
A minimum of a secondary school general diploma is needed to apply for QSWP.
You need to attain a degree within five years prior to applying for QSWP. Else, you need work experience of 12 months in a field directly related to your education within five years prior to your application.
Language Skills for the QSWP
You may need to take additional tests to prove your language skills under QSWP. French is the preferred language and has more weight compared to English when it comes to proving your language proficiency. You may need to take a language proficiency test from recognized institutions.
Recognized French Tests:
The Test d'Évaluation de Français (TEF)
Test de Connaissance du Français (TCF)
Test de français international (TFI)
Test d'Evaluation du Français adapté pour le Québec (TEFAQ)
Recognized English Tests:
International English Language Testing System (IELTS)
Proof of Funds for the QSWP
You need to have sufficient funds to support yourself in Quebec. The amount is determined based on the number of family members and their ages.
Work Experience for the QSWP
You can use your work experience to gather more points on your QSWP application. Your work experience must be within five years prior to applying for the immigration program.
Unlike FSW, there is no eligible list of occupations for QSWP.
Job Offer
You don't need a valid job offer from any Quebec employer to take advantage of the QSWP. But having a job offer does add to your points.
Age
You must be 18-years of age to apply for QSWP.
Quebec Connection
You may have some preference if you have a family or spent some time in Quebec.
Spousal Characteristics
You can use your spouse's credentials to add weight to your application and score extra points. Spousal credentials can include education, language skills, age, and more.
Accompanying Children
You can add more points to your application if you bring your children over.
You may also check your eligibility online:
QSWP Predictions – 2021 and Beyond
Though the government of Quebec is planning to reduce immigration, businesses are pushing the government to allow 60,000 people a year to meet labor shortages. The government plans to increase the immigration numbers to 52,500 skilled workers in 2022.
Another study also recommended the Quebec government to raise the number of immigrations.
Why QSWP is an ideal way into Quebec?
QSWP is one of the best ways to get PR in Canada. If you are selected, you will receive the CSQ, after which you can apply for permanent residency.
Why QSWP is an ideal way into Quebec?
No job offer required: You don't need a job offer from a Canadian employer to apply. Just meeting the eligibility allow you to apply for PR.
No need to study in Canada: You also don't need a degree from Canadian University or college. But international students and graduates in Canada can also apply for QSWP.
Apply from home country: You don't need to travel to Quebec to apply. You can create your expression of interest online from your home country.
Simple and easy: You don't need to go through any complication to apply for QSWP. The process starts with a simple online expression of interest and then you get the CSQ if you qualify.
How to Find Skilled Worker Jobs in Quebec
Though a job offer is not necessary to qualify for QSWP, having one increases your chances of being eligible.
Ways to Search for Skilled Jobs
Look if the Canadian Job Bank has any openings
Search for government jobs in Quebec
Seek help from your local Quebec Service Canada Centre
Visit websites of Canada's top 100 employers to look for vacancies
Ask employers and companies directly if they have any openings
Create your own network and search for jobs on LinkedIn
Browse online job portals
Search for jobs in Google- for example, "Psychologists job in Quebec"
Approach recruitment agencies and immigration services and ask for references or openings
Consult your family, friends, or peers living in Quebec
Seek a transfer to Quebec if your current employer has branches in the province
Assistance from RCIC Agent
Regulated Canadian Immigration Consultants (RCIC) help can streamline and expedite your Quebec Skilled Worker Program Visa process. The licensed individuals stay on top of all requirements and regulations so that your application has the highest chances of being accepted. You can also save your effort and time on lengthy paperwork, which will be handled by the RCIC agent. The agents will also coordinate with immigration officials on your behalf and come up with a tailored immigration strategy for optimum results.
Having a professional immigration expert by your side will help you sail through the immigration process. Are you excited?

QSWP: Most Asked Questions
So you have decided that the QSWP is something that can work for you. Here we have answered some of the questions you may have related to the Quebec Skilled Worker Program.
How Long Do You Have To Wait For QSWP Application?
You can create your expression of interest on the
Arrima portal
any time you want. Once you create a profile, you have 90 days to complete it. After your profile is complete, you will need to wait for an invitation to apply for QSC. You must apply for QSC within 90 days of receiving the invitation.
After your QSC is approved, you can apply for permanent residency within 60 days.
You can speed up the process by:
Ensuring all your information is complete and accurate
Cooperating with Quebec immigration to make verification quicker and easier
Preparing all fees and documents in advance
How Much Time Can It Take to Arrange My Documents?
You must provide supplementary documentation while applying to QSWP:
Passport and travel documents: It may take a month to get your passport if you are a new applicant.
Language test results: You may need two to three months to get your results. Results are generally valid for 2 years.
Educational qualifications: You need to submit certified true copies of your educational qualifications. It may take one or two months to get them certified.
Quebec job offer: You can try to get a job offer to strengthen your QSWP application.
Medical reports: You and your family members may need to undergo medical exams while applying for permanent residency. It may take a few weeks to get the reports.
Police certificates: Police verification can take a few weeks, but you can approach a Passport Seva Kendra to expedite the process.
How To Get Your Documents Done Faster?
You can get your documents done faster by:
Arranging the required documents in advance
Taking language tests while there is time
Approach the police or Passport Seva Kendra at the earliest for verification
Paying all fees in a timely manner
How Can You Increase Your QSWP Score?
You may increase your score by:
Upgrading your educational degrees and diplomas (Master's degree adds 12 points while Ph.D. gets you 14 points)
Getting training in chosen areas (can add up to 12 points)
Having more work experience (the more years of experience, more are the points)
Scoring high or retaking your language tests
Using Quebec connection (time spent in the province, having family or friends)
Taking advantage of spousal credentials (education, training, language proficiency)
Having a valid job offer from a Quebec employer (adds a maximum of 10 points)
Having accompanying children
Can You Join QSWP If Your Score Is Lower Than 50/59 Points?
You need 50 points as a solo applicant and 59 points when you are applying with a spouse to QSWP. You cannot qualify for CSQ if your scores are lower than 50 or 59.
Can I Bring My Family Under The Quebec Skilled Worker Program?
You can not only bring your family but also score more points under QSWP if you have a spouse and children. You can use your spouse's credentials to add to your score. Children up to 19 years of age also increase your score for a better chance of qualification.
The Top Stats To Know
QSWP has remained as a top avenue of immigration in Quebec to meet the labour shortage. The government of Quebec allows only a certain number of people under the program to work and live in the province.
In 2019, the province cut the number of immigrants by 20% to 40,000 people.
The number is expected to increase over the years, allowing 52,500 people to take advantage of QSWP in 2022.
Do I Have To Sit For An Interview?
You will generally not need to attend any interviews for QSWP. But an immigration official may call you over to verify details and information on his sole discretion.
Can Self-Employed Professionals Apply?