The Canadian Business Immigration Programs Welcome skilled immigrants who have the experience to grow businesses in their local markets. It can be done by buying an existing business that is already operating in Canada or it can mean creating a brand-new business.
Check your business immigration options and choose the type of visa that is right for you.
Overview
Since Canada relies heavily on immigrants for economic and population growth, the federal and provincial governments are eager to admit talented and skilled entrepreneurs who are looking for a new opportunity, into the country.
In addition to facilitating the immigration process for business people, the business immigration program helps successful newcomers settle into Canada and establish their business ventures.
Canada Business Immigration Programs
Today, there are certain Business Immigration programs for entrepreneurs and investors wishing to immigrate to Canada:
PNP Investor Program
Through this option, the provinces have the power and authority to invite qualified applicants to settle and open a business in their province. Most provinces with a PNP have one or more immigration streams dedicated to the entrepreneur or investor visa category.
Candidates' profiles are evaluated and ranked using factors such as work experience, education, language proficiency, and their commitment to the province. The highest-ranked candidates are issued invitations to apply for a provincial nomination during invitation rounds.
Each province has its own set of requirements and criteria for the investor visa program.
Read more about the PNP investor program here.
Quebec Business Visa Program
Since Quebec establishes its own immigration requirements, it is the only participating province with a different set of criteria for business immigration options. Applicants can apply under the Quebec investor class or the Quebec entrepreneur class.
For both categories, the applicant must contact the Ministère de l'Immigration, de la Diversité et de l'Inclusion (MIDI) and receive a Certificat de sélection du Québec (CSQ). Applicants must demonstrate they intend to live in the province and they have to be selected by the province.
Learn more about the Quebec business visa program here.
Start-Up Visa Program
The Start-up visa is designed for individuals who have the skills, talent, and funds to build or establish a business in Canada. At a minimum, these businesses must be innovative, have the potential to create new jobs for Canadians, and must be able to compete globally.
Individuals who are interested in applying for the program have to meet four eligibility requirements:
Have a qualifying business.
Provide a letter of support from a designated organization.
Meet language proficiency requirements in English, French, or both.
Have the necessary funds to live in Canada without government assistance until your business becomes profitable.
In addition to meeting these requirements, the candidate will need to meet the admissibility requirements to enter Canada.
The processing time takes approximately 12 to 16 months.
For further reading about the Start-up program, Check our article here.
Self-Employed Program
One of the interesting aspects of Canada's business visa program is that it's not restricted to individuals who own businesses. The Self-employed Persons Program opens the door for self-employed individuals to apply for permanent residency.
The candidate must demonstrate they have relevant experience in cultural activities or athletics and they must be in a position to make a significant contribution to Canada's cultural or athletic life.
Candidates are assessed using selection criteria that include factors such as:
The individual's age;
Work or life experience;
Education;
Language proficiency;
Their ability to adapt to Canada;
Their educational background.
All other admissibility requirements such as medical and background checks apply.
The application process itself is quite simple.
An application package can be downloaded online through Immigration, Refugees and Citizenship Canada (they have a complete guide and video to walk applicants through the application process).
Complete the forms and relevant documents, truthfully. Any errors or mistakes may result in a refusal or even a five-year ban from submitting future applications.
Pay all the required fees. This is done online and includes fees such as processing fees, biometrics fees other third-party fees for medical exams or language testing.
Submit all forms and supporting documentation by mail.
The processing time for self-employed immigration to Canada is much longer and takes approximately 29 months to complete. If approved, the applicant's passport is sent to the visa office so they can issue a permanent resident visa.
Your immigration through any of the above-listed programs may start with the assessment of your overall eligibility for immigration. It takes just a couple of minutes and can be done with this tool: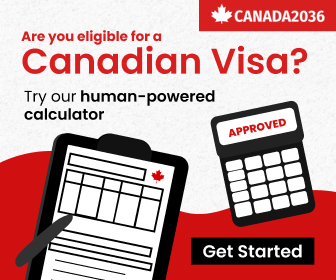 Summary
When it comes to business immigration to Canada, there are many opportunities waiting for you out there. all you need to do is check which option is fitting you the best, hire an RCIC (optional), and start your journey towards Canadian vias.