Did you know that Canada is one of the most visited countries in the world? In fact, with 21 million tourists visiting Canada, 2017 was a record-breaking year for the country.
Given Canada's rich and diverse cultural heritage, its colorful history, the breathtaking natural beauty of Niagara Falls or British Columbia, and the sweeping mountains of Banff it only makes sense it would be one of the premier destination choices for travelers.
Are you considering a visit to Canada? If so, the first thing you need to do is get a visitor's visa.
What is a Visitor Visa?
A Visitor Visa is a non-immigrant visa issued to people entering Canada temporarily for tourism or medical treatment for a period of 6 months or under.
It is an official document that is pasted on your passport at the time of traveling. By getting a visitor visa for Canada, you are eligible for the following activities within the country:
You can plan a vacation, enjoy tourism and explore the beautiful cities and everything the country has to offer.
For visiting family, friends and relatives and spending quality time with them.
For an important business work, to attend a conference or be part of creative and sports events.
For organ donation activities and special medical treatments.
You can stay in Canada till the expiration date of your visitor visa, but it's important to note that the validation of your visitor visa is in no way a suggestion as to how long you are supposed to stay in the country. That depends solely on you and your reason for travel. You can get the visitor visa as a single entry type or multiple entry type if you wish to leave the country in between your stay.
Who Needs a Visitor Visa?
Most people need a visitor visa or an electronic travel authorization (eTA) (more information on eTA below) to visit or transit through Canada – not both. The factors that determine whether you need a visitor visa or eTa are as follows.
Your Nationality is the main factor that determines whether you'll need a visitor visa for Canada.
The country that you got all your travel documents from.
The type of travel documents that you have at the time of traveling.
Your means of travel to Canada (i.e. by air/land/sea)
The nationals of the following countries will require a visitor visa when visiting or traveling through Canada:
require a visitor visa
Afghanistan
Albania
Algeria
Angola
Antigua and Barbuda
Argentina
Armenia
Azerbaijan
Bahrain
Bangladesh
Belarus
Belize
Benin
Bhutan
Bolivia
Bosnia-Herzegovina
Botswana
Brazil (some Brazilian citizens may be eligible for an eTa instead of a visitor visa)
British subjects, subject to control
Burkina Faso
Burma (Myanmar)
Burundi
Cambodia
Cameroon, Republic of
Cape Verde
Central African Republic
Chad
China, People's Republic of
Colombia
Comoros
Congo, Democratic Republic of
Congo, Republic of
Costa Rica, Republic of
Cuba
Djibouti
Dominica
Dominican Republic
East Timor
Ecuador
Egypt
El Salvador
Equatorial Guinea
Eritrea
Ethiopia
Fiji
Gabon
Gambia
Georgia
Ghana
Grenada
Guatemala
Guinea
Guinea-Bissau
Guyana
Haiti
Honduras
India
Indonesia
Iran
Iraq
Ivory Coast
Jamaica
Jordan
Kazakhstan
Kenya
Kiribati
Korea, North
Kosovo
Kuwait
Kyrgyzstan
Laos
Lebanon
Lesotho
Liberia
Libya
Macao Special Administrative Region
Macedonia
Madagascar
Malawi
Malaysia
Maldives Islands
Mali
Marshall Islands
Mauritania
Mauritius
Micronesia, Fed. States
Moldova
Mongolia
Montenegro
Morocco
Mozambique
Namibia
Nauru
Nepal
Nicaragua
Niger
Nigeria
Oman
Pakistan
Palau
Palestinian Authority
Panama
Paraguay
Peru
Philippines
Qatar
Romania (holder of a non-electronic passport, such as a temporary passport)
Russia
Rwanda
Sao Tomé e Principe
Saudi Arabia, Kingdom of
Senegal
Serbia
Seychelles
Sierra Leone
Somalia
South Africa
South Sudan
Sri Lanka
St. Kitts and Nevis
St. Lucia
St. Vincent and the Grenadines (St. Vincent)
Sudan
Surinam
Swaziland
Syria
Taiwan (along with passports issued by the Ministry of Foreign Affairs in Taiwan that include their personal identification number)
Tajikistan
Tanzania
Thailand
Togo
Tonga
Trinidad and Tobago
Tunisia
Turkey
Turkmenistan
Tuvalu
Uganda
Ukraine
Uruguay
Uzbekistan
Vanuatu
Venezuela
Vietnam
Yemen
Zambia
Zimbabwe
*The United States nationals and citizens of France residing in Saint Pierre and Miquelon (arriving directly from the territory) only need to show their valid passport at the time of entry.
Be one step closer to Canda by Finding out your eligibility score using the CRS score calculator
What is eTA?
Electronic Travel Authorization (eTa) allows entry for visa-exempt foreign nationals that are traveling to Canada by air. eTA is not required if you wish to travel via land border crossings with the U.S or by sea.
In contrast to a visitor's visa, an eTA is electronically linked to your passport rather than being pasted on like a visa, and has a validity of five years or until the expiration of passport. Having a valid eTa allows you to visit Canada for short stays (under six months), multiple times within the 5 year period.
As you don't have a visa to show, you will have to answer the border services officer at the time of your entry and show them other travel documents and passport.
It is a simpler process as compared to the visitor visa application, and can be done online from the website of Immigration, Refugees and Citizenship Canada with a fee of C$7. These are the visa-exempt countries for whom eTa is a mandatory requirement to travel by air regardless of their reason of visit.
Answering a few short yes or no questions about the applicant's situation will generate more details on what steps will need to be followed and what documents will need to be submitted. Applicants can be submitted online or printed and mailed in a hardcopy form. Applying online is strongly recommended as there will be fewer delays and a faster turnaround time.
The Following Nationalities are Visa-exempt and Only Require an eTA:
Visa Exempt Nationalities
Andorra
Australia
Austria
Bahamas
Barbados
Belgium
British citizen
British National (Overseas)
British overseas citizen (re-admissible to the United Kingdom)
British overseas territory citizen with citizenship through birth, descent, naturalization or registration in one of the British overseas territories of:
Anguilla
Bermuda
British Virgin Islands
Cayman Islands
Falkland Islands (Malvinas)
Gibraltar
Montserrat
Pitcairn Island
Saint Helena
Turks and Caicos Islands
British Subject with a right of abode in the United Kingdom
Brunei Darussalam
Bulgaria
Chile
Croatia
Cyprus
Czech Republic
Denmark
Estonia
Finland
France
Germany
Greece
Hong Kong Special Administrative Region of the People's Republic of China, must have a passport issued by Hong Kong SAR.
Hungary
Iceland
Ireland
Israel, must have a national Israeli passport
Italy
Japan
Republic of Korea
Latvia
Liechtenstein
Lithuania
Luxembourg
Malta
Mexico
Monaco
Netherlands
New Zealand
Norway
Papua New Guinea
Poland
Portugal
Romania (electronic passport holders only)
Samoa
San Marino
Singapore
Slovakia
Slovenia
Solomon Islands
Spain
Sweden
Switzerland
Taiwan, must have an ordinary passport issued by the Ministry of Foreign Affairs in Taiwan that includes the personal identification number
United Arab Emirates
United States, lawful permanent resident of
Vatican City State, must have a passport or travel document issued by the Vatican.
Mistakes can be costly when it comes to your Visitor visa / eTa application. A Regulated Canadian Immigration Consultant (RCIC) will sort through the details with you, ensuring that your documents are correct and that your paperwork will be accepted.
Visitor Visa Requirements
Not everyone is eligible to apply for visitor visa or permitted to come into Canada. Anyone involved in any of the things below cannot apply for visitor visa:
Any criminal activities;
Any human rights violations;
Part of any organized crimes;
In addition, according to the visiors visa requirements, all applicants must possess a valid passport, be in good health and have to convince the immigration officer they fully intend to return to their home country. If the officer suspects the purpose of the visit is to remain in Canada and claim refugee status, the application will be denied.
Visitor Visa Application Process and Fees
The process of applying for a Visitor's Visa is very simple:
The applicant (the person wishing to visit), has to complete a form either online or through the mail
Pay a $100 processing fee as well as the biometrics fee of $85;
Once the application and biometrics fee has been received, a letter will be sent requesting the applicant submit their biometrics (fingerprints and photos). Biometrics must be submitted in person. The applicant will also need to bring their passport to this appointment.
Once biometrics are received, the application will be processed. While it's being processed, the applicant may need to go through an interview, medical check up or police verification.
If no further complications arise, the applicant needs to just wait to hear back!
| | |
| --- | --- |
| Fees | CA$ |
| Visitor visa (including super visa) – per person | 100 |
| Visitor visa – family (5 or more) | 500 |
| Extend your stay as a visitor – per person | 100 |
| Restore your status as a visitor | 200 |
What is the Processing Time for Visitor Visa?
Usually, the processing time of a Visitor visa is around a few weeks but the processing time will vary from country to country. Delays can occur if additional steps are needed from the applicant.
Once approved, the approval is stamped inside the applicant's passport and returned to them along with any other original documents.
When entering the country, a Border Services Officer will verify paperwork and determine how long the applicant can stay for and stamp the passport with that date. If no date of departure is specified, it means the visitor has the full six months.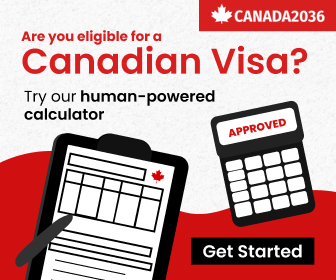 Is There an Extension Option for Visitor Visa Holders?
Of course, visitor Visa holders can extend their visa. The application should be made 30 before the status is expired. However, there are other subtleties, so it is better to go through the requirements and recommendations beforehand to make sure you get your visitor visa extension on time.
Visitor Visa Compared to Other Options
Visitor Visa vs Temp Visa: What are the Differences?
The main difference between a temp and visitor visa is the reason of visit. Temp visa can be used by tourists, temporary workers and students to stay in Canada for a certain period of time. Temporary residence visa gives you excess to temporary jobs as well as study permit in Canada. These can also be single and multiple entry visas that come with an expiration date. Choosing between visitor and temp visa largely depends on your need to travel to Canada.
Visitor Visa vs Super Visa: What are the Differences?
Multiple-entry Visitor Visa and Super Visa both enables travelers to come in and out of Canada multiple times. And both could last up to 10 years.
The main difference though between Super Visa and Visitor Visa is that Super Visa holders can stay in Canada for up to two years per entry, while those who have Visitor Visa can stay just up to 6 months without renewing status.
Key Points to Remember
Regardless of where the individual is coming from, in order to enter Canada they will need either an eTA or a Visitor's Visa (they don't need both). So make sure to carefully check all requirements before planning a visit.
With an excellent and convenient visitor's program, it's a great time to visit Canada and enjoy one of the most beautiful countries in the world.