Canada is very well known for its diverse employment opportunities and for promoting inclusion and multiculturalism. Therefore the jobs in Canada for immigrants aren't only there to strengthen your financial stability, but also to make you feel at home in the Great White North.
In this article, we'll explore how to get a job in Canada for immigrants and why it could be useful to have a job offer from a Canadian employer.
7 Reasons Why Canadian Job Offer is Important for Immigration
Express entry is by far the most common pathway to gain PR status in Canada, and its Federal Skilled Worker Program (FSWP) is preferred by many skilled workers from around the world. If you belong to the skilled worker category with the right eligibility to apply for FSWP, you'll find many job options in Canada.
Let's see why a job offer is important for immigrants.
Top Reason – Accelerated Immigration Process
It's important to know that finding a job in Canada can greatly accelerate your immigration process.
Have You Ever Heard of the Express Entry?
Most likely, yes. You can hardly avoid hearing about it if you start exploring Canadian immigration pathways.
Basically, Express Entry is a system that was designed to process some of the immigration programs faster and easier.
Many immigrants choose to use the Express Entry system to immigrate. During one of the steps you make under this system you are assessed based on the CRS score system.
The score you get will determine how high you rank relatively to other candidates and, thus, will influence your chances of being chosen as one of the best during the Express Entry Draw.
While there are other factors that influence the CRS Score, the job offer is one of the most "expensive". It means that if you have a Canadian job offer you will get lots of points for it and will increase your chances of being invited for permanent residency.
In most cases, the CRS scores for potential candidates in the express entry pool fluctuate anywhere from 439 to 476 points, and the cutoff scores or threshold is different with every draw.
Note that a job offer (any) can bring you 50 points, and an approved job offer in a managerial field – 200 points. As you see, it is likely to "weigh" a lot in the total score you need.
If you work on improving your potential CRS score and get a job too, you could be almost sure to be invited for permanent residency in Canada.
Do You Want to Settle in a Specific Province?
Then you may want to learn more about the PNP programs.
Job offers are also great for securing immigration through Provincial Nominee Program (PNP) since those applications can also be processed under the Express Entry system (thus, applications will be assessed under the CRS pointing system).
Getting a job offer that's specifically designed for a particular province or territory automatically gives you a whopping 600 points on your express entry profile, almost guaranteeing an invitation to apply for permanent residency.
Reason 2 – Easy Settlement
The government of Canada is quite welcoming and inclusive, making newcomers feel at home in a multicultural and diverse atmosphere.
If you reside outside, finding a job in Canada is a safe and conservative approach to gain entry into the country. As mentioned above, it makes immigration easier and faster, so you'll save the time and energy to prepare yourself for a new life.
The job offer also makes it easier to adapt to the country both socially and financially. You will dive into the new environment of co-workers who may become your first friends in the new home.
Canada has a wide range of immigrant settlement programs and courses that help people adapt to the new lifestyle, climate, and demands of the country. With a guided approach and a job waiting for you, you will feel right at home in no time while also feeling secure about providing for yourself and the family.
Reason 3 – Financial Security
Financial security is a huge blessing. Feeling financially secure and stable in a new place is something that every immigrant wants to pursue.
While it can be quite a task to settle down and make a new home after immigration, having one of the authentic jobs surely eases the process by providing you with a fixed monthly income.
This not only helps you provide and feel stable but also manages monthly expenses and plans a proper budget while you ease into your new life.
Reason 4 – Competent Salary Packages
Most Canadian employers and companies offer a handsome salary package for immigrants. The packages not only cover the base salary but also have many incentives and the benefits of living a life in the country as a permanent resident.
Canada has a strong economy and is constantly looking to advance its cosmopolitan cities at par with the rest of the world.
The development brings businesses and investments and thus, good job options with high salaries.
Reason 5 – Diverse and Dynamic Work Environment
Canada welcomes a large influx of immigrants every year, making it a highly multicultural and diverse environment where everyone feels included and at home. People from all over the world search for jobs in Canada for PR, and it is said that you can find at least one person from every nationality in Ontario's city Toronto.
Over 90,000 immigrants received an invitation to apply last year alone, making Canada one of the best places to immigrate.
Reason 6 – Low Unemployment Rate
You will find immense employment opportunities with numerous jobs in Canada. The public finance system is transparent and reliable, making the employee feel economically independent.
Canada has strong banking systems along with powerful financial networks, especially due to its proximity and close ties with the U.S.
With the world's 14th largest economy, Canada makes the list as one of the richest nations that offer consistency and security with the standard of living.
The country also has remarkable contributions in medical advances, technology, space science, and quantum computing. Therefore, people find many opportunities as an immigrant to advance their career while working in their field of choice as a skilled worker.
Reason 7 – Family Sponsorships Made Easier
The process of sponsoring your family to settle with you in Canada is quite easy and quick. The principal applicant can also move to the country along with their spouse/common-law partner and children, while also leaving room to sponsor parents in the future.
And having a job in Canada could be the financial basis for the family immigration.
A dependent child also has many benefits that come with job security and PR status. These include:
access to free education
tax-free monthly support contribution
universal healthcare
special benefits for disabilities
training opportunities along with professional training and tuition compensation if required.
Now that we see the benefits a job offer can bring, let's see how to get a job in Canada.
Successful Job Hunting Strategies
Finding a job is something people expect to be difficult.
However, there are many job opportunities waiting for you, if only you search and apply through the right platforms with a thorough knowledge of what makes a job application successful for jobs in Canada.
Don't Know Where to Start?
You may start preparation for immigration and job hunting by assessing your eligibility and background.
To check eligibility, you may use this tool: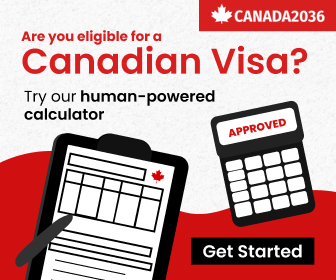 Note that this tool gives initial eligibility points, not the CRS Score. You may read more about the assessment systems here.
To assess your background, you may look back at your experience and list the skills you have acquired by now. Assessing your background and skills is a worthy step. You may make research on where in Canada your skills might be needed the most.
Professionals can help you with that: recruiters or RCICs
They know how to squeeze the maximum from your experience and find and perfect fit among the job offers from Canadian employers.
Also, while finding work from outside the country, sometimes there can be no telling if a job offer or an employer is authentic or not. This is where reliable recruiters and platforms come into play since they have direct connections with employers in Canada.
Another great strategy for finding a job in Canada is to come to Canada with a Working Holiday Visa to get some Canadian work experience.
Canadian work experience, even if not related to your niche, gives you a powerful boost on your express entry profile, while also making it quite attractive to employers and recruiters.
Where Can Immigrants Find a Job?
There are many legit platforms to find work in Canada. Hunt down authentic job boards for immigrants that post job offers from Canadian employers and companies in bulk on a daily basis.
There are both national and international job boards that are successfully running in Canada to find work, which makes finding a job that matches your skill sets quite convenient.
All you have to do is make an impressive profile and upload your resume to start applying for jobs through job boards.
On the other hand, a lot of companies also have direct websites that are open to accepting applications for job interviews. Search for companies and study about them before directly applying to the recruiter.
Do You Prefer Creative Approaches to Standard Ones?
Great! Most employers appreciate creativity. For example, you may make a video resume instead of the written one.
Another idea is to build strong networking with word-to-mouth and personal connections, or through social media with platforms like LinkedIn.
Sometimes it takes just one well-written message to be noticed and get yourself a good job offer from the company you want.
Prepare to Get a Job in Canada
Resume & Cover Letter Writing: Canadian Format
Every employer is looking for a candidate that's hardworking and serious about their work. All of this can be conveyed with a disciplined and well-put-together resume by following the Canadian resume format.
If you want to successfully know how to get a job in Canada for new immigrants, make your cover letter strong with the Canadian resume format. A good recruiter can also help you shape a good resume that will land you a great job in the country in no time. You may also consult an RCIC to get help with that.
Preparing for an Interview in Canada
The final stage of your application is a Canadian job interview. Here are some important ideas to consider before and during the interview:
find basic information about the company and its goals
spend at least 30% of the interview time explaining how your skills and personality fit well with the goals and objectives of the company
know how to present yourself and relay your experience and qualifications, attributes, and personal information in a professional manner
It is hard to say for sure what questions you will be asked. However, you may expect the question about your experience in the relevant field and why do you want to work with the company.
The purpose of this is to find out if you are genuinely interested in working with the company, and your answer should be a blend of your personal interests and detailed research about the company.
How Can RCICs Help?
It can be hard to keep up with so many immigration laws and policies, along with the correct documentation and required legal work for getting work in Canada and immigrating.
Regulated Canadian Immigration Consultants (RCICs) are in direct touch with the federal and provincial governments of Canada. They know everything about the available immigration programs and they use their knowledge to help people from around the world immigrate to Canada.
RCICs can be by your side during the whole time of your immigration. And here's why they can be trusted with that.
RCICs Can Represent You
RCICs can represent candidates for immigration along the pathways and formalities that come with job offers and work permits.
They also liaise with IRCC for your application on your behalf, making your work all the easier.
RCICs are Trained & Qualified
The consultants are properly trained, highly qualified, and quite knowledgeable, all of which help a great deal with following through the immigration process and successfully applying through one of the many immigration pathways for Canada PR.
RCIC Help with both Making the Plan & Its Execution
The personalized immigration strategy coupled with full reports on the immigration options that's best for you really helps with the immigration process. Not to mention, they take care of all the hectic and overwhelming paperwork for you and find you the offers that are truly authentic and worth your skills and time.
What Could be the First Step?
You may start by talking to an RCIC to get acquainted with immigration first hand and to learn more about your options. To do so, you may leave your details below and you will get a call back from the professionals.
Immigrating to Canada can be exciting, and once you decide to move – you probably would want to finish the immigration as soon as possible. However, proper preparation is essential. And if planned beforehand, you may increase your chances to get a job and immigrate easier with the job offer in your pocket.
Hopefully, this article has helped you learn more about how to maximise your chances for immigration. You may learn more from the questions below or reach out to our team – we'd be happy to help.
Finding Jobs in Canada: Frequently Asked Questions
What Are The Easiest Jobs To Get In Canada As An Immigrant?
There are many jobs in demand in Canada for immigrants. The most dominant sectors include IT and tech, management and business administration jobs, finance and accounting, as well as service industry sectors, merchandising and retail, engineering, and sales jobs.
Is It Hard To Find A Job In Canada For Immigrants?
Finding a job in Canada as an immigrant can only be as easy as you make it out to be. There are many platforms and services that can help facilitate the process for you so that you can find a job that perfectly matches your level of skills, expertise, and experience. Make sure that you are only looking for jobs through authentic sources.
Why Don't You Want Just Any Job In Canada?
A common mistake that most people make is finding a job in Canada at random by applying to every available vacancy. This loses the worth and interest that your Canadian cover letter should have on the recruiter. Find jobs that fit your skill set and requirements and apply for those while being thoroughly prepared for the interview and hiring process.